St. John's has some of the best accommodation available to graduate students in the university. There are rooms both on- and off-site, ranging from modern en-suite facilities to cosy, traditional rooms in large townhouses. The location of graduate accommodation can be seen on this map.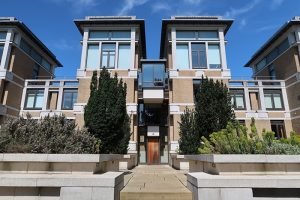 If you'd like more information, please view the College's graduate accommodation page for information on room pricing, regulations and more. If you have any further questions relating to accommodation at St. John's, please contact the Vice President.
Are you a new graduate student?
All incoming new graduate students, including those who have done their undergraduate degree at Oxford, as well as St. John's graduate students who are beginning a new graduate course at St. John's, have their rooms assigned directly by the college and are not part of the ballot until after they have completed one year of their graduate course.
Are you a current graduate student?
If you're already a current student, you can enter the room ballot for accommodation for subsequent years of your time at St. John's. The room ballot takes place in Trinity Term each year, potentially with a second ballot later in the summer if more rooms become available.
The Vice President is responsible for organising the ballot by which rooms are assigned to current graduate students. The Vice President is responsible for assembling and distributing a room list and ranking of all entrants to the ballot in question no later than one week before the date of the ballot. The Vice President, on the advice of the President, interprets and applies the ballot rules in cases of ambiguity. Their decisions can only be overruled by a simple majority decision at a General Meeting.
The Room Ballot Rules 2017 are available for for reference.
If you have any questions regarding the room ballot or College accommodation in general, please contact the Vice President.