The MCR Building is a great space for graduates to work, rest, or play. It is located between Thomas White Quad and Garden Quad. The entrance is at the back of the Building, opposite the entrance to the College squash courts.
Facilities
There are many facilities for graduates to use in the MCR Building.
Main Room: the venue for MCR events, and a space for graduates to work or relax in – also contains free tea and coffee for MCR members.
Kitchen: available for all graduates to use, and includes oven, microwave, electric hob and dishwasher.
Study Room: providing free printing and quiet space to study.
TV Room: a venue with a 70″ TV, DVD player, and Sky access.
Sports Cupboard: containing sports equipment that is free to use for a large range of sports.
Games Room: contains comfortable sofas and chairs, a 60″ TV, PS3, and various board games.
Meeting Room: a venue for work, meetings, or gathering people together.
BBQ: a great way to enjoy a summer evening.
TV Room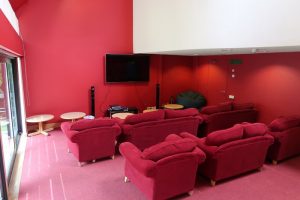 The TV Room is available for all members to use and contains a 70″ TV, DVD player, and Sky access.
The priority list for use of the TV Room (starting with highest priority) is as follows.
Events run by the Committee.
Room bookings approved by the the MCR President, and posted on the SJC MCR calendar.
First-come-first-serve use of the room by a member.
Key Fob Access
If you are an MCR member, you can access the MCR Building by activating your College key fob. You can do this by contacting the President.
Room Booking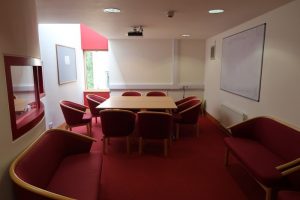 Full members can book rooms in the MCR Building for social events through the MCR President by filling out the room booking form at least 24 hours in advance of their booking.
Spaces you can book include the Main Room, TV Room, Games Room and Meeting Room. Details of room bookings are posted on the MCR Calendar and you should check that the room you wish to book is available during your required time slot before completing the room booking form. If you are hosting an event in the MCR Building, you should not use any of the speakers, and you will be expected to tidy the room that you use after the event.
For groups that are greater than twelve people in size and contain more than three guests per MCR member, the following additional constraints apply:
A deposit cheque for £100, made out to 'St John's College MCR', must be delivered to the MCR Treasurer no later than three days prior to the event, otherwise the booking will be cancelled. This cheque will be returned if the MCR is left in its original clean and tidy state. If this is not the case, the required funds will be used to restore the MCR to its original state, with any left over money being returned.
Decanal permission must be obtained at least 7 days in advance of the event.
Events can be booked no earlier than three weeks in advance.
MCR members must be allowed full access to events held in the MCR building and, for society events, MCR members shall receive the same rights as society members. In particular, if the society charges for entry, MCR members must be entitled to the same rate as members of that society.
Only the Main Room may be booked.
No more than two bookings for groups of this type will be accepted in any given week.
If you wish to make a booking, complete the MCR Room Booking Form.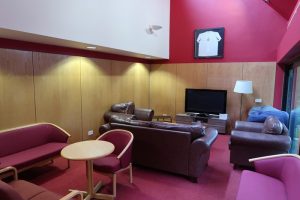 For groups of 12 people or less, you should assume that your booking has been accepted unless you receive an email from the President indicating otherwise.
For groups greater than 12 people in size, you will need to obtain decanal permission at least 7 days in advance of the event. You should not attempt to obtain permission from College until you have received email confirmation from the President that your booking has been accepted. This email will contain instructions on how to obtain decanal permission.
If there are any issues with your booking, you will be contacted by the President, usually within 24 hours.
Only bookings made by completing the above form at least 24 hours in advance will be accepted. Please do not email the President requesting to book a room.
Guest Policy
Each member may share the facilities with up to three guests. Members are responsible for their guests and can be held accountable for any damage or disturbance they cause. Unaccompanied guests will be required to leave the MCR Building.